By: Dustin Barr, CFA
Following the Philadelphia Eagles big Super Bowl win, it seems only appropriate to lead with a Jack Bogle quote (Vanguard is headquartered in the greater Philadelphia area).  Here's my favorite: "Don't just do something, stand there!" – Jack Bogle – Founder of Vanguard
As of 4:18PM on February 5th, here is what my phone said: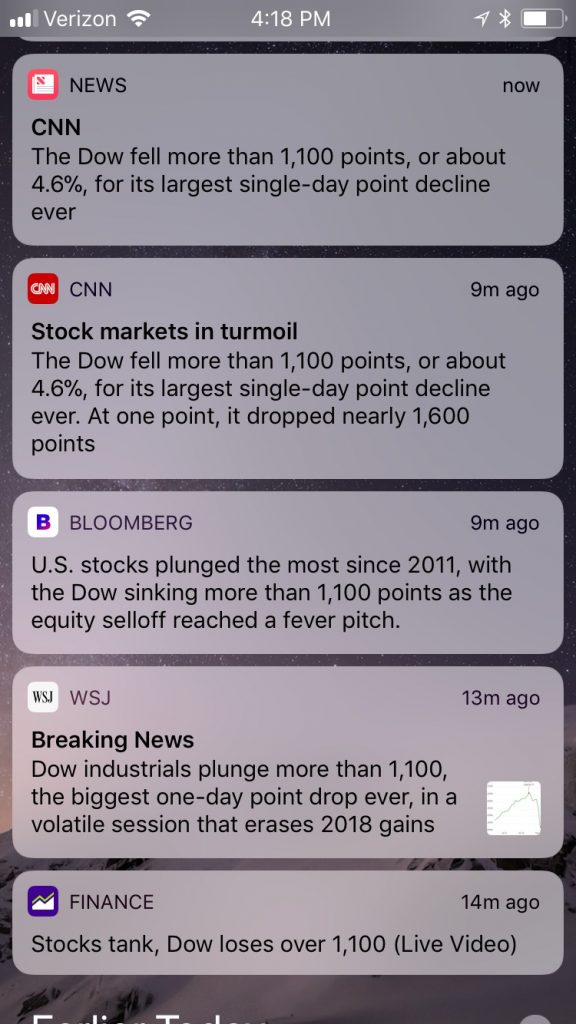 The media loves to promote fear.  Alerts like these attract eyeballs that lead to increased advertising revenue.  While the alerts above are all technically "true", they don't entirely represent the "truth".  Yesterday's market decline was indeed the largest one day point drop in market history, but it was far from the largest drop on a percentage basis.  The decline was just the 108th worst one day drop in history (Source: Reformed Broker Blog).
After 15 consecutive months of positive total returns in the S&P 500, a period marked by historically low volatility, markets have finally corrected. The Volatility Index, also known as the VIX, increased dramatically from its very low 2017 levels.
While corrections are stressful, it's important to remember that drawdowns happen every year. Corrections and above average volatility are a normal part of market activity.  Since 1980, the average maximum drawdown drop on an intra-year basis has been -14%. In that same time period, the markets have been negative just nine of the last 37 years.  The current drawdown is 9.2%.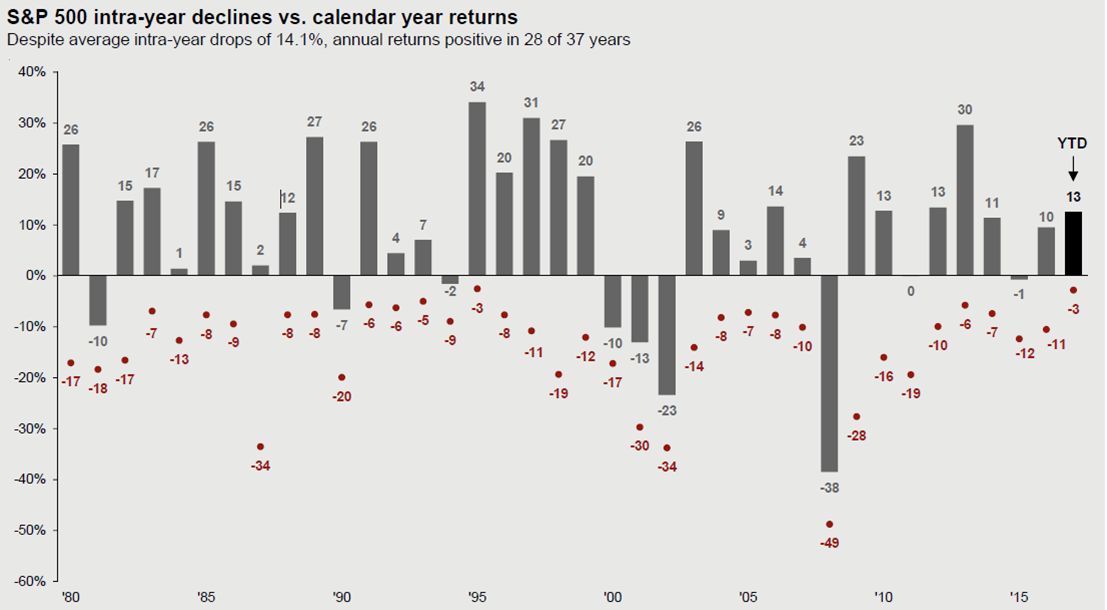 Source: JPMorgan Q1 2018 Guide to the Markets – As of 12/31/2017
As frequent readers know, we have been cautiously optimistic for some time now. Market valuations tend to be loosely predictive of long-term future returns but very unreliable as a measure for short-term performance.  Momentum has propelled markets forward at a stunning rate over the last 24 months.  Despite objectively high stock market valuations, recent fiscal stimulus, coupled with very positive economic data and optimistic sentiment data, lead us to believe that the bull market has not reached its cyclical top. But there is no way to know for sure.
While market returns do matter, we can't control them as investors. However, we can control a number of decisions.  We think investors should focus on the intersection between what matters and what they can control. Have a plan, focus on their ability and willingness to take risk, ensure their asset allocation is in order, avoid market timing, add value through asset location, and make decisions using a rules-based framework.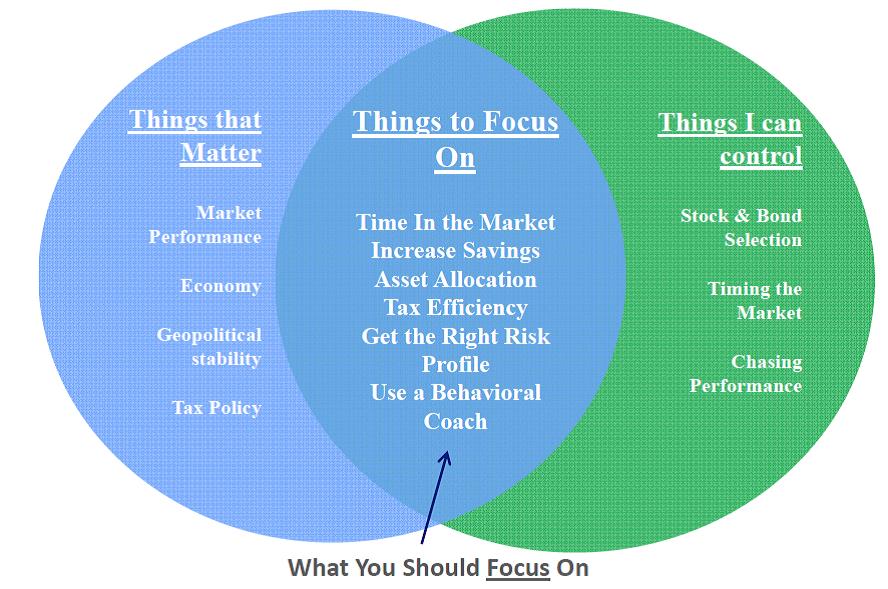 Source: Carolinas Investment Consulting/Vanguard
Dustin Barr, CFA is a Consultant & Director of Research at Carolinas Investment Consulting. He oversees the CIC Investment Committee and manager research and due diligence process at the firm.  He provides investment & financial advice to families, non-profits, and corporate retirement plans.  Click here to learn more about Dustin and how he can help you.  
The information published herein is provided for informational purposes only, and does not constitute an offer, solicitation or recommendation to sell or an offer to buy securities, investment products or investment advisory services. All information, views, opinions and estimates are subject to change or correction without notice. Nothing contained herein constitutes financial, legal, tax, or other advice. The appropriateness of an investment or strategy will depend on an investor's circumstances and objectives. These opinions may not fit to your financial status, risk and return preferences. Investment recommendations may change and readers are urged to check with their investment advisors before making any investment decisions. Information provided is based on public information, by sources believed to be reliable but we cannot attest to its accuracy. Estimates of future performance are based on assumptions that may not be realized. Past performance is not necessarily indicative of future returns.