By: Ivan Lukic
Lately, you may have noticed news and media headlines addressing economic indicators.  Leading economic indicators are statistical measurements used by economists to make predictions about the future of the country's economy.  Although there are countless indicators, those summarized below are frequently used.
The U.S. Treasury Yield Curve represents a plot of yields for bonds issued by the Federal government.  These bonds range from short-term Treasury Bills to longer-term Treasury Notes and Treasury Bonds.  To compensate investors for investing in longer-term bonds, Treasury Notes and Bonds normally have higher yields than Treasury Bills.  However, those yield curves occasionally invert, meaning shorter-term bonds are yielding more than longer-term bonds.  This occurrence has been an indicator that the economy might experience a recessionary period within next 14 to 18 months.  The graph below depicts normal and inverted yield curves.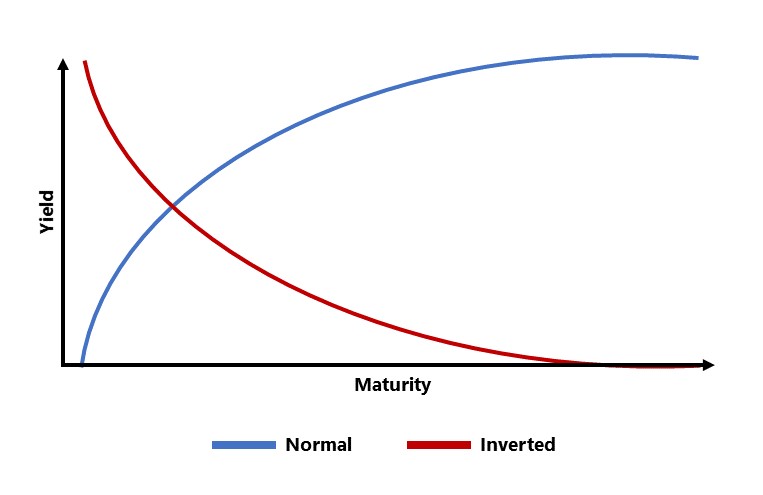 Durable goods order survey provides statistical data on domestic economic conditions in the manufacturing sector.  When companies are confident that the overall economy will enter an expansionary cycle, they start ordering expensive items that last longer than 3 years.  Industrial machinery, large orders of computer equipment, airplanes, and trucks are just some examples of durable goods.  The opposite is also true.  When manufacturing companies are feeling pessimistic about the upcoming economic period, they tend to put a hold on such orders.
A building permit is a type of authorization approved by the government which allows construction of a new building.  An increasing trend in the issuance of building permits indicates that consumers have positive thoughts about the future of the economy.  On the other hand, a decreasing trend in new building permits displays uncertainty in the eyes of consumers.
An unemployment claim is a request made by an individual who was recently laid off and is now seeking unemployment benefits.  A high number of new unemployment claims is an indicator of a slowing economy, whereas a low number of new unemployment claims is a sign of a healthy economy.
Ivan Lukic has an MBA from James Madison University and currently resides in Charlotte, NC.
Carolinas Investment Consulting is not affiliated with any of the websites linked in this commentary. Nothing contained herein constitutes financial, legal, tax, or other advice. The views and opinions expressed in this article are those of the author and do not necessarily reflect the official policy or position of Carolinas Investment Consulting. The information published herein is provided for informational purposes only, and does not constitute an offer, solicitation or recommendation to sell or an offer to buy securities, investment products or investment advisory services. All information, views, opinions and estimates are subject to change or correction without notice. The appropriateness of an investment or strategy will depend on an investor's circumstances and objectives. These opinions may not fit to your financial status, risk and return preferences. Past performance is not indicative of future returns.
Sources: www.census.gov and www.investopedia.com