Do not expect to receive a letter in the mail reminding you to enroll in Medicare. Unless you are currently receiving social security benefits, you will need to actively enroll in Medicare so go ahead and mark the start of your Initial Enrollment Period (IEP) on your calendar right now. Your Initial Enrollment Period is a seven-month period encompassing the three months leading up to your 65th birthday, the month of your 65th birthday, and the three months following your 65th birthday. During this time, you can sign up for Medicare, penalty-free. If you do not enroll in Medicare during your Initial Enrollment Period, you could face a monthly penalty for the rest of your life. More on that later.
First off, what is Medicare? As a brief overview, Medicare is a federal program that subsidizes healthcare services. Program eligibility is restricted to individuals 65 and older as well as some younger individuals who receive social security disability benefits or have end stage renal disease. There are two Medicare offerings – (1) Original Medicare and (2) Medicare Advantage.
Original Medicare, which is comprised of Part A and Part B, is run by the federal government. Part A, hospital insurance, helps pay for inpatient hospital/skilled nursing costs as well as some costs associated with the inpatient stay, such as certain kinds of home health care. Part B, medical insurance, helps pay for medically necessary services/supplies outside of a hospital as well as some preventative services. You can add Part D and/or Medigap, both run by private insurance companies, to Original Medicare. Part D helps pay for the costs of outpatient prescription drugs. Medigap supports some of the costs that Part A and B do not cover, as well as a portion of the copays and deductibles associated with Original Medicare. To enroll in part D, you must be enrolled in either Part A or Part B while enrolling in Medigap requires you to be enrolled in both Part A and Part B.
Medicare Advantage (Part C) plans are required to cover everything that Part A and Part B cover. In addition, they may pay for additional expenses that Original Medicare does not cover (e.g., dental, vision, and/or hearing). There are several types of Medicare Advantage plans, all of which are managed by private insurance companies and government regulated. Most Medicare Advantage plans include prescription drug coverage. For those plans that do not, you may be able to add Part D. On the other hand, Medigap plans are never allowed to be added to Medicare Advantage Plans.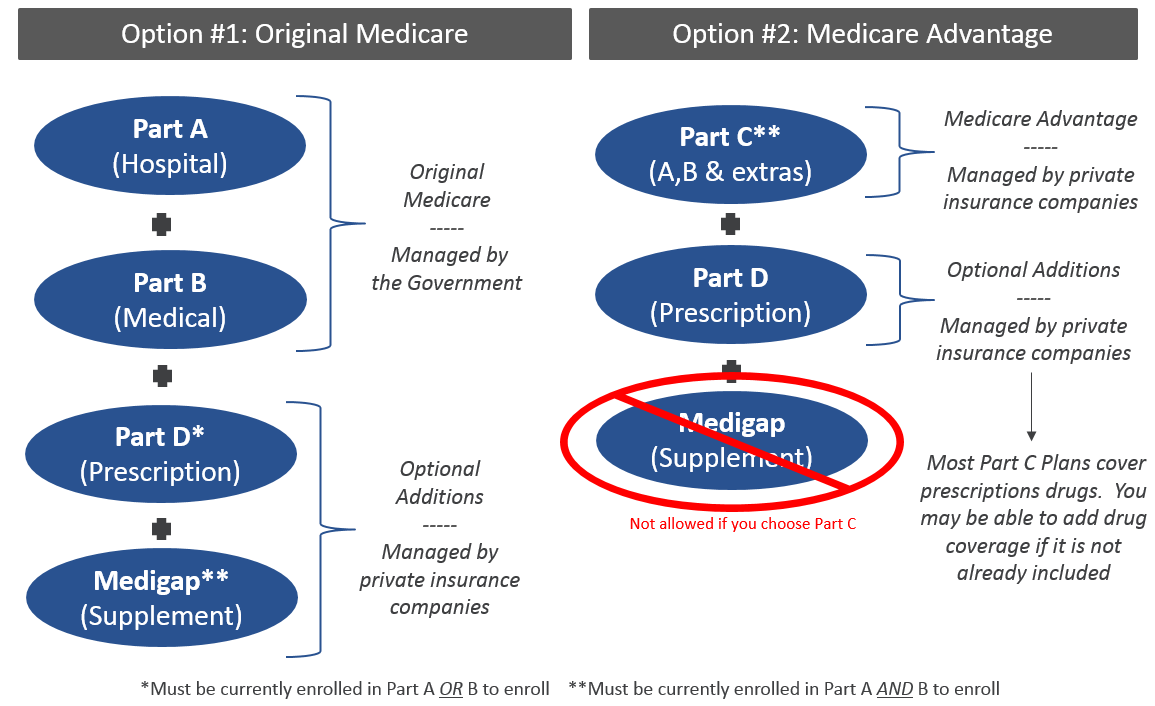 Whichever plan you choose, be sure to enroll at the correct time or risk a lifelong penalty. If you are currently receiving health insurance through your or your spouse's current employer who employs 20 or more people, you may be entitled to a Special Enrollment Period (SEP) that allows you to delay enrolling in Medicare Part B until the employer coverage ends. Even if you delay part B, it might be a good idea to go ahead and enroll in Part A, unless you are contributing to a health savings account. If you are not entitled to a Special Enrollment Period, you will presumably want to enroll during your Initial Enrollment period, the seven-month period surrounding your 65th birthday that was previously discussed. If you are already receiving social security benefits, you will automatically be enrolled in Part A and Part B. If not, you can enroll online at www.ssa.gov, by calling social security at 1-800-772-1213, or in-person at your local social security office.
If you are not eligible for a Special Enrollment Period and miss your Initial Enrollment Period, a late enrollment fee may be applied to your monthly Part B and Part D premiums for as long as you continue that coverage. The Part B late enrollment fee is equal to 10% of the standard Part B premium for each full twelve-month period that passes following the end of your Initial Enrollment Period. For Part D, the late enrollment fee is equal to 1% of the standard Part D premium for each full month that passes during which you did not have creditable drug coverage. All this to say, we strongly encourage you to determine your enrollment period long before you plan on enrolling in Medicare.
As with most financial decisions, Medicare elections are highly dependent on your individual situation. Given the extreme complexities of Medicare, we encourage you to learn more about your options before you make any decisions. If you want to read more about Medicare and the enrollment process, check out these trusted resources:
– www.Medicare.gov
– www.MyMedicareMatters.org
– www.aarp.org/health/medicare-qa-tool
If you are ready to enroll in Medicare and would like to meet with an expert who can give you an in-depth assessment of your options, as well as guide you through the transition to Medicare, please let us know. We would be more than happy to introduce you to one of our reliable Medicare contacts.
Bridget McDermott, CFP® is a financial planner in Charlotte, NC. Click here to learn more about Bridget.
Carolinas Investment Consulting is not affiliated with any of the websites linked in this commentary. Nothing contained herein constitutes financial, legal, tax, or other advice. The views and opinions expressed in this article are those of the author and do not necessarily reflect the official policy or position of Carolinas Investment Consulting. The information published herein is provided for informational purposes only, and does not constitute an offer, solicitation or recommendation to sell or an offer to buy securities, investment products or investment advisory services. All information, views, opinions and estimates are subject to change or correction without notice. The appropriateness of an investment or strategy will depend on an investor's circumstances and objectives. These opinions may not fit to your financial status, risk and return preferences. Past performance is not indicative of future returns.